Fintech Sector in Saudi Arabia
Financial Innovations Unleashed in Saudi Arabia
Young population, full internet connectivity and surge in digital literacy pave the way for fast-tracked transformation of the financial sector.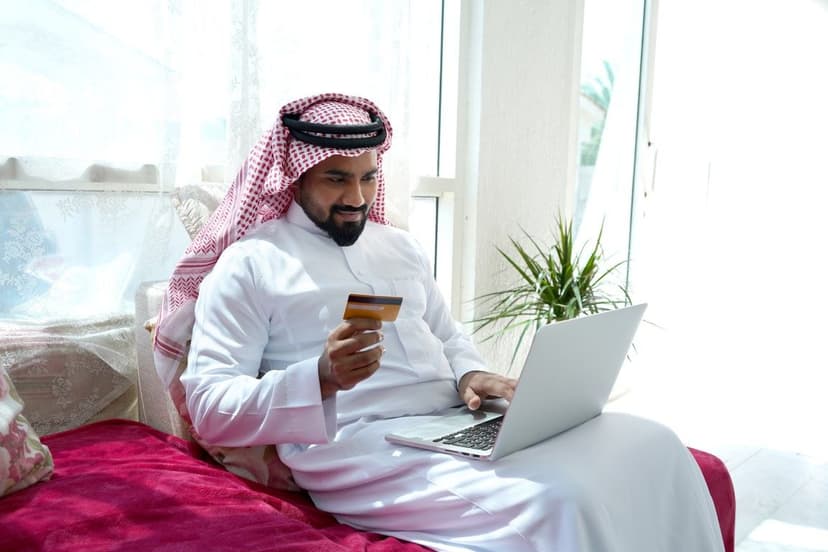 Vision 2030: Become a regional financial hub by 2030
With a youthful and tech-savvy population, nearly 70% under the age of 35, Saudi Arabia represents a vast market hungry for innovative financial solutions. The country's high smartphone penetration, extensive internet connectivity, and rapidly changing consumer preferences create a fertile ground for fintech growth. Furthermore, Saudi Arabia's Vision 2030 is fostering a business-friendly environment and regulatory reforms, making it easier than ever for international companies to expand their fintech operations in the Kingdom.
Saudi fintech insights

Fintech Sector Growth
From 89 in 2022, Saudi Arabia is home to over 200 fintech firms as of August 2023. This also indicates a 300% increase in the sector from 2021

Fintech Revenue
The fintech sector generated around $746.4 million in 2022

Fintech Investments
Investments in fintech startups in the MENAP region increased from $200 million in 2020 to approximately $885 million in 2022

Future Outlook
MENAP fintech revenue is expected to increase threefold and reach $3.5–$4.5 billion by 2025

FDI Impact
Saudi Arabia aims to increase FDI levels by 20%, aiming for $3.2 billion by 2030
Top 5 fintech companies in Saudi Arabia
Here are the top five fintech companies in Saud Arabia that will inspire you to make a move toward this lucrative market or find opportunities for strategic partnerships among the most successful firms in the country.
Saudi's fintech strategy
Saudi Arabia is pioneering a fintech revolution, embedding it in its financial sector's DNA.
The Kingdom's Fintech Strategy, approved in May 2022, is a bold step in positioning Riyadh as a global fintech hub, with a focus on innovation, global positioning, and talent development.
This strategy is the fourth pillar of the Financial Sector Development Program, which aligns well with Saudi Vision 2030 to achieve global competitiveness. It encompasses six transformational drivers and eleven initiatives that foster collaboration, enhance infrastructure, and drive investment in the fintech ecosystem.
Saudi Central Bank (SAMA) designed a Regulatory Sandbox that further supports these initiatives by welcoming local as well as international firms looking to test their products on the Saudi market. SAMA's Sandbox creates new opportunities and lowers the risk for foreign-owned companies looking to set up in Saudi.
Talent in Saudi Arabia's Fintech Industry
While talent used to be quoted as one of the challenges with 40% of fintechs in Saudi Arabia considering talent and recruitment to be their biggest challenge, we witness that to be changing thanks to various initiatives. In one of them, The Financial Academy recently partnered with Fintech Saudi and AstroLabs to launch the most comprehensive Fintech bootcamp that trained 30 young professionals and supported them in developing their fintech prototypes.
Fintech Regulations in Saudi Arabia
Saudi Arabia's fintech industry is regulated by two key authorities: the Saudi Central Bank (formerly known as the Saudi Arabian Monetary Authority or SAMA) and the Capital Market Authority (CMA). SAMA oversees various financial services, including banking, finance, insurance, credit bureaus, and payments. It also regulates specific fintech activities such as intelligent cash management and insurance aggregation. Meanwhile, CMA focuses on capital market-related activities, such as dealing, arranging, managing, advising, and custody of securities.
Fintech startups operating in Saudi Arabia need to determine whether their services fall under the purview of CMA or SAMA regulations, and they can access a comprehensive list of regulated activities on the respective regulators' websites. Interestingly, not all fintech companies provide regulated services, and some may not require immediate regulatory approval. Here are eight standalone fintech activities that currently do not need regulatory approval:
Aggregation of Publicly Available Financial Information
Business Tools
Back-office Bank Operations
Enhancing Bank's Customer Experience
Personal Management
Regtech
Gamification
Reward-Based Crowdfunding
However, should a fintech company intend to provide regulated activities in addition to the aforementioned services, it will likely need regulatory approval. For those uncertain about their regulatory status, Fintech Saudi has developed a Fintech Regulatory Assessment Tool, which can provide clarity on the regulatory pathways for various fintech activities. If any doubts persist, Fintech Saudi can assist in coordinating with the appropriate regulator on the company's behalf. Depending on their strategic direction, fintech companies operating in areas currently not subject to regulation may have several options, such as offering business tools or enhancing banks' customer experiences. More information can be found in Fintech Access Guide.
Future of Saudi Fintech Startups
The biggest fintech companies shaping the investment landscape from 2021 to 2023 include Lean Technologies, Mod5r, Tamara, EdfaPay, Cashin, Lendo, and more. These companies accumulated a total revenue of over $740 million in 2022. As of December 2022, SAMA licensed and authorized another 89 fintechs in Saudi Arabia.
The Kingdom's fintech expansion aligns with its strategy to position itself as a regional financial hub by 2030. For instance, one of its aims is to increase the share of non-cash transactions among individuals to 70 percent by 2025. By 2030, the fintech sector targets to have 525 active fintech firms in the Kingdom, contributing directly around 13 billion riyals to the GDP and creating 18,000 direct jobs. These forward-thinking initiatives and comprehensive strategies pave the way for substantial market growth.

Set Up and Scale Your Business in Saudi Arabia
Join 450+ Companies Who Expanded to the Kingdom with AstroLabs